Around 6 out of every 10 individuals prefer watching videos online instead of surfing the channels on their smartphone small screens, which means that you should Promote Your Video for more views.
YouTube stands as the largest search engine after Google and it makes sense for every brand to start building its video presence on this platform.
Unfortunately, it can be hard to get many views on that content you have invested a lot of resources and time into. Do not panic yet, we have Smart and Effective ways of promoting your YouTube videos to get more views and improve your ROI. Here they are.
Find out how you can promote your video faster/Grow 1K+ YouTube subscribers Within 30 Days
Step- 1: Upload new videos regularly
Start uploading new videos on a regular basis – if possible on a schedule. For example, if the target audience is expecting new videos every Tuesday, remember to provide them with one on that day.
After uploading the new video, everyone who has subscribed to your YouTube channel will be notified.
You can watch this Video to know how to Upload Your Video on YouTube
Step- 2: Include an intro for all your videos reminding the viewers they can subscribe to your channel
YouTube offers a native video uploader, which people use to upload all their new videos to the YouTube channel. Statistics show that Facebook videos are getting more engagement than YouTube video-shared links.
Remember to add a call-to-action on each Facebook video post asking your audience to subscribe for more videos.
Here you can watch how to create Intro Video For Your YouTube Channel
Step- 3: Include subscribe buttons on your blog
To promote YouTube videos easily, embed them on your blog and start promoting them on your social media platforms.
That way, you will increase the video views and your website page views. Mention every video on your blog periodically and include subscribe buttons.
Step- 4: Reply to comments left under your videos
Your audience wants to get a reply to the comments, questions and queries they leave after watching a video.
Therefore, make it easy for them to send the feedback or ask questions. To reply to the comments or the questions, link them back to your website or the other social media channels.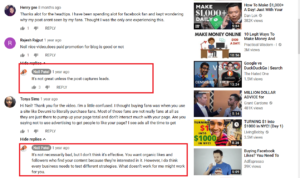 Include your contact email. Remember to reply to all their comments if you want to improve the number of video views.
Step- 5: Near the end of your video always encourage viewers to subscribe to your channel
One of the methods I have used to promote my YouTube videos involves encouraging the viewers to subscribe to my YouTube channel near the end of every video.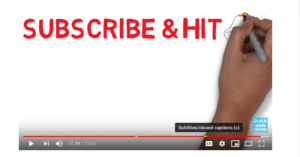 Regular posting will keep the viewers engaged with you. Provide quality videos if you want the method to work.
Step- 6: Engage your most loyal fans
Reach most of your loyal fans through email. For example, if your brand has an email subscriber list, inform them about your YouTube channels and about each new video you publish. Alternatively, use your great content to create lead magnets.
Advertise the videos you produce in many places and ask the viewers to subscribe to download your content. And instead of editing every video, add call-to-actions, including intro/outro for the playlists informing the viewers about your email lists and asking for a subscription. Ask them to click on links to your video descriptions.
Step- 7: Get paid promotions from a reliable agency
Effective advertising strategies will accelerate the growth of your YouTube channels.
Apart from building a channel organically, you can reach more viewers and engage them by investing in video advertising. Create ads that appear before the video starts or along the video on your YouTube's watch page.
Google requires the user to create the ad solely, but you also have to set your budget and target the appropriate audience.
Google has not set a minimum price for running an ad and you will have the chance of changing your ads, budgets and targeting at any time. End the campaign when necessary.
You Can Promote Your Video with some Real YouTube Promotion Service. Watching this Video will introduce you with a legit advertisement experts to run Google, Facebook or Instagram Paid Campaign for You.
If you need faster results, We providing Paid YouTube Promotion. We have lot's of partner's website to promote your YouTube video, Our Experts will research into your target audience and their location.
That way, We will identify every available opportunity to boost the popularity of your videos and number of views. With VidOrange.com, most people have witnessed faster results.

Step- 8: Promote your videos to your email subscribers
By promoting new videos to your email subscribers, you will increase the number of page views significantly. For better results, embed the videos on your Blog to increase the page views and the video views.
If you don't have Blog and don't know How to setup email marketing campaign contact support@vidorange.com  we providing this service
Step- 9: Add a subscribe popup box
The small call-out boxes, which pop up when a YouTube video is playing, are annotations.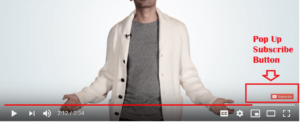 And even though YouTube announced that end cards will replace annotations, it is a feature that will work great with your desktop versions of YouTube videos.
You can build annotations with Video Manager Settings. Include copies that ask your viewers to subscribe to your YouTube Channel, click on a link to other videos or join your email lists.
You have to promote your YouTube videos if you want to increase the number of views faster. Moreover, you will have to use email marketing and include links on your blog posts. Remember to create quality videos.