It goes without saying that the use of video has really grown over the past few years. While popular websites like Instagram and Facebook are also used to upload videos. offering to Promote Your YouTube videos on their platform. it is arguable that YouTube still remains unopposed in this space. 
With over 1 billion monthly users, YouTube comes out as the largest video sharing platform online.
In fact, it is often referred to as the world's Second Largest Search Engine. One of the things that make YouTube so popular among many users is that it is absolutely free to post videos as long as the videos coincide with the community guidelines.
In addition, it provides you with numerous free editing, marketing, and analytics tools that are built right into the platform.
However, with more than 50 million content creators uploading videos each and every day, it is quite hard standing out. 
So how can you increase your chances of your video being viewed? To help you, here are 7 trends to Promote Your YouTube Video in 2019.


Ensure Unique and informative Video Quality
When it comes to YouTube videos, quality matters over quantity. While grabbing your audience's attention is very crucial, keeping it is even more important.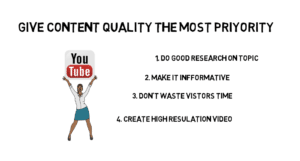 The only way to make your audience to get glued to your video is by creating a video that is packed with high-quality content.
If you have noticed, most videos that tend to go viral do not happen with low-quality videos.
When talking about quality, it doesn't only mean having a video quality that is 720p or 1080p.
Your YouTube video's length also matters. Always try to make your videos simple, fun, and short by cutting out all the unnecessary parts to remain with the most relevant and high-quality parts.
Use Keyword-Rich Title and Description
In order for any YouTube video to rank high on the YouTube searches, it is vital to make your video's file name as your keyword.
While it may seem obvious, developing your YouTube video around a single keyword is arguably the best possible way you can drive more traffic to it.
However, most of the people are unaware of this and usually skip this step. To look for the most searched keywords in your niche, you can use a keyword tool.
A good example is the Ahrefs Keywords Explorer  Google Keyword Planner,  Keyword Everywhere, KeywordTool.io since it primarily focuses on YouTube. In addition to the title, the description of your video should also be keyword rich and long enough. This makes it be able to get searched by the most number of people.
Design a good custom thumbnail and end screen
If you are one of those people who like letting a thumbnail to be randomly generated for you, it is a high time you start creating a custom video thumbnail.
Using relevant images and annotations as custom thumbnails can greatly increase your YouTube videos' Click-Through Rate.
This is because when you have a custom thumbnail with a minor annotation, YouTube users will get to know what your video is about even before they click it.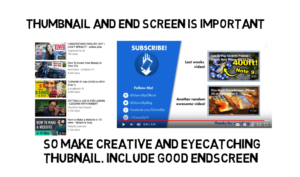 If you have noticed, YouTube normally advertises videos using their thumbnails in its sidebar. This means that you have to make yours appealing if you really want your video to stand out and get clicked.
End screens are as equally important as thumbnails. Remember that after your viewer has watched your video, they will be in desperate need of what to do next.
You can add call-to-action towards the ending of all your videos to direct them to your other videos, playlists, subscribe to your channel, or even direct them to your website.
Upload a Transcript
Just like YouTube video titles, tags, and descriptions transcripts can also help a lot with your video's SEO.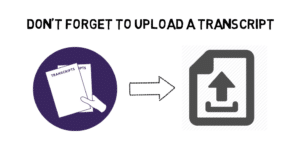 In addition to SEO, uploading a transcript helps those viewers who are hard of hearing. In most cases, YouTube will automatically transcribe your video's using speech recognition software.
However, the resulting auto-generated text normally comes with several inaccuracies.
This is why it is advisable to always create and upload your own transcripts.
Create a blog that Targets the same Keyword
Another great idea to promote your YouTube video is creating a blog that targets the same keywords used in your videos.
Through doing this, the traffic to your blog posts will be just as equal to the number of viewers on your videos and vice versa.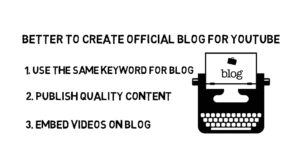 In addition, engagement will also be hyped whether you choose to add a blog in your video description or video on your blog.
This will, in turn, lead to more likes and a variety of metrics that are often considered when YouTube is ranking your videos.
Explore Paid-Marketing for quick growth
In addition to building your channel organically, advertising on YouTube is another great way to engage and even reach more viewers.
If you have the funds, you should not limit your videos to be viewed only on your YouTube channel.
From Google Adwords and FB Campaigns to Reddit Campaigns and sponsored cards, there is quite a number of ways to get quick views, comments, and thumbs-up.
However, according to experts, Vidorange is the top leading YouTube promotion service provider thanks to its direct connection to YouTube and many years of experience in the industry.


Use Social Media Marketing to  Promote Your YouTube Video
Promote your YouTube Video on social media channels is one of the easiest ways to grow your audience.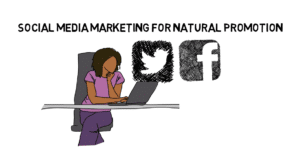 To do this, always be very active on platforms like Facebook through liking, commenting, and sharing others' user's videos on Facebook.
When it comes to Twitter, always follow those people who share videos that are quite similar to yours and immediately start liking and tweeting their video content.
These people will be more likely to reciprocate by viewing, liking, and sharing your videos.
Also, never forget the power and potential of relevant social media hashtags in increasing your videos reach by your audience.
YouTube is a great platform for vloggers and also bloggers who seek to broaden their internet reach. However, to get more viewers and achieve more success in this platform, your videos should be able to appear on the top YouTube search results.
By applying these tips, you will be able to successfully Promote Your YouTube video and increase its views, traffic, and subscribers. Just remember to keep experimenting with all the above techniques that we have discussed and track your changes to know the way each one affects your viewer's behavior.