YouTube is world second largest video sharing platform at the moment. Rather than other platform People loves to share their works, experience, knowledge through video. To get Success in YouTube You must find out some ways to Advertise your YouTube Videos.
They also ought to promote their service through video. If you are worried of promoting your business, advertise your YouTube video by Facebook Campaign.
Video Advertising generates more traffic than the printing campaign. Visual interaction with customers, help them to understand your service easily.
You may be worried about how to advertise your YouTube video.
Swipe away your tension.
There are several ways to get you out of this tension. This article is going to explain how you can advertise your youtube video.
You can find expertise reference in this article. Go through the article and explore new strategies for your advertisement.
Now let me ask you, what are video ads? How this is going to help you? If you already know it's great. But if you don't know, this article will answer these for you.
Video Ads are to give customers visual idea about your service. People love to learn by their sight.
It's easier to understand both the perspective and details. If anyone can't understand your service, your video ad will make way of it.
Followings are the best reason why people prefer YouTube video ads:-

⦁ YouTube is popular for sharing videos.
⦁ 3 billion viewers watch videos on YouTube per month.
⦁ YouTube Video ads will help you to reach globally.
⦁ It is time consuming for your business.
⦁ YouTube has dynamic tools for promotions.
⦁ SEO friendly.
⦁ You can lively interact with your customers.
⦁ You can create video ads from your home
You may ask, how can I make people watch my video? You can make people watch your youtube video in different ways. Such as, you can promote videos on facebook, instagram, tweeter, and so on. All these social platforms allow youtube video promoting option. In this article, we will guide you on how you can promote youtube videos on facebook. There are some legit ways of making your youtube video viral:-
⦁ Video Title attracts viewers:
Video title is very important for your video. It will give you primary idea about your content.
⦁ Video tags connects viewer to your content:
Another way of engaging traffic is video tag. Tags allow other relevant viewers to connect with your content.
⦁ Good Thumbnails drives your youtube channel fast:
Thumbnail is like a book cover. So you have to be creative regarding choosing your thumbnail. Thumbnail will attract viewers to click on your video.
⦁ Promote youtube videos on social media platform:
Branding or promotion is highly associated with social media these days. Youtube video sharing is also associated with different social media platforms.
⦁ Use blog for your YouTube channel:
Write blog for your youtube channel. Reader will get an idea about channel from the blog.
Sounds difficult to you? You will be glad to know that, VIDORANGE is Ready to do this for you.
Vidorange.com is a leading youtube video marketing company. It has years of experiences on promoting youtube videos.
We have a wide range of expertise to work for you. They work for global companies. We offer the most convenient packages for our Clients. Our prime goal is to generate Legit Viewers and Subscribers in your YouTube channel.


Why Choose Us?
We have customer friendly contract policies.
We are committed to providing organic viewers. They focus on client's targets more than money.
We allow clients to track the progress in real time.
The most prominent part is their pricing. You can't get such professional service in affordable price as we offer.
Our Experts campaign Manager promote Facebook campaign too. Mostly, We promote YouTube video. They are result oriented. Their dynamic work process is as followed:

⦁ Research on client's target.
⦁ Targeting desired country.
⦁ Work on the Video
⦁ Optimize SEO facts
⦁ Create Facebook and Google Ads Campaign.
⦁ Launch video within 24 hours.
⦁ Generate results and track records.
Best thing about us is our price. All the process mentioned above start at $10.
Another fact made VIDORANGE acceptable is their terms and policy. They are highly confidential regarding the client's data security.
That's why they are demanding to their client's. I would personally recommend you to go with Vidorange.
How to create Facebook campaign
Facebook is the largest social media with more than 10 billion users.
It is easier to target audience in Facebook. You will need a Facebook page to create ad campaign.


Step-1: Sign in to your account is must
Login to your Facebook account.
Step-2: Ad manager allows creating Ad Campaign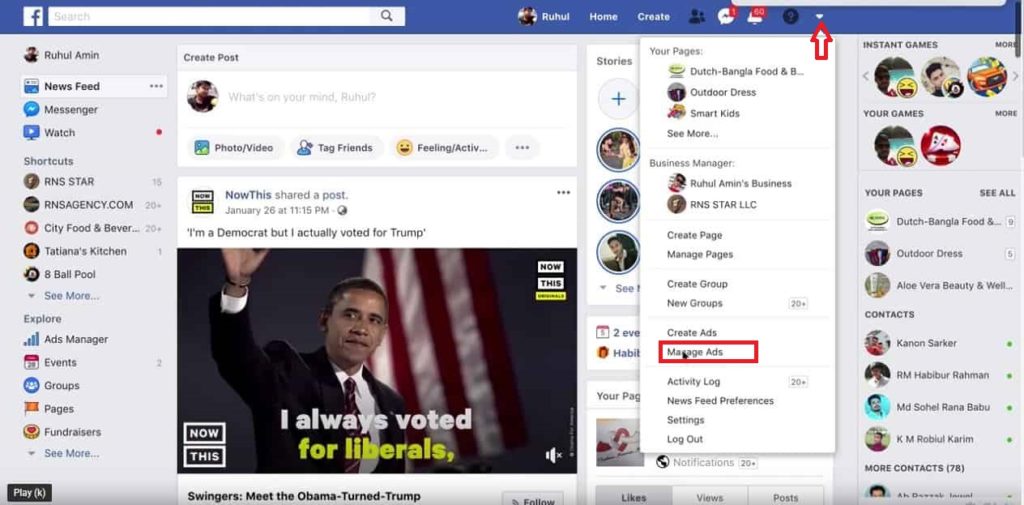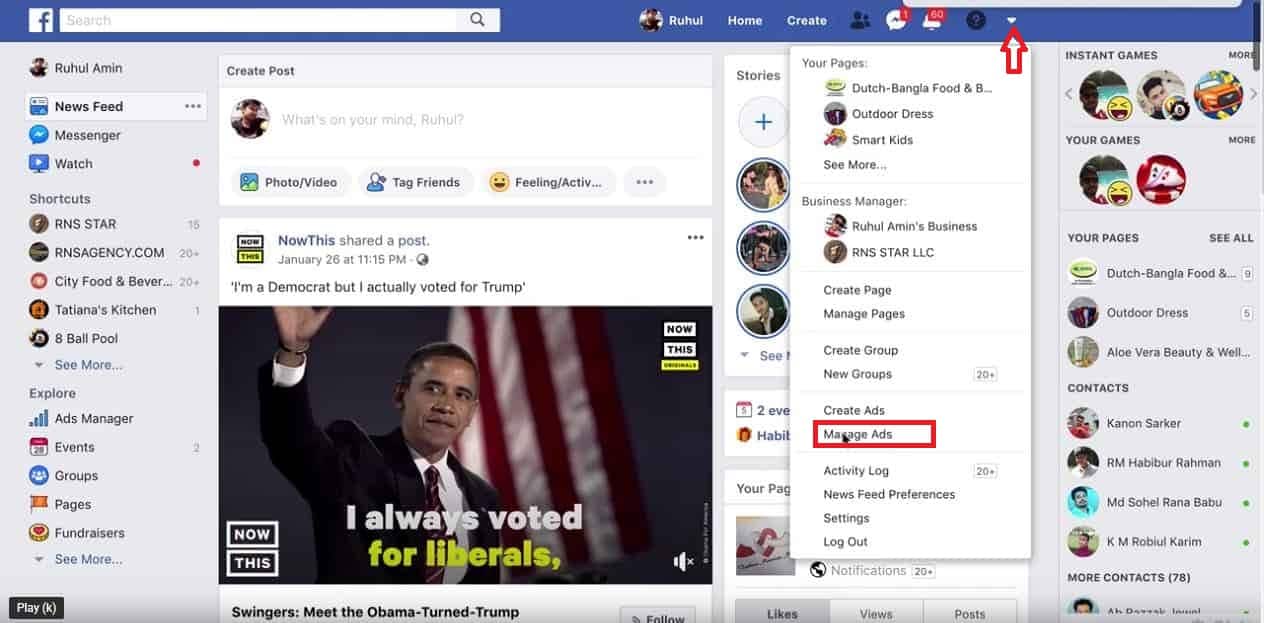 You can click "Ad Manager" either from the left side of your screen or from the drop-down button from the top right corner of your screen.



Step-3: Create will allow you to go further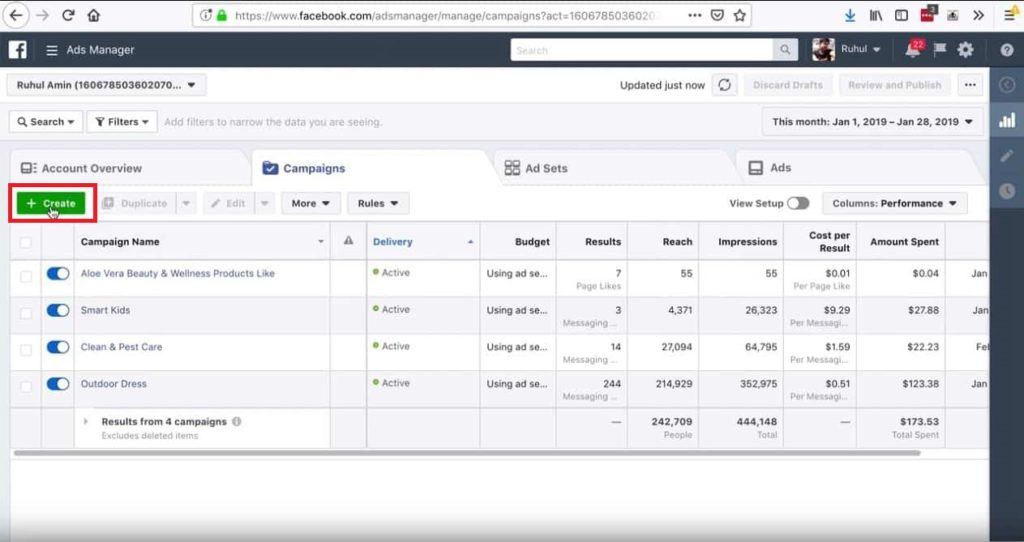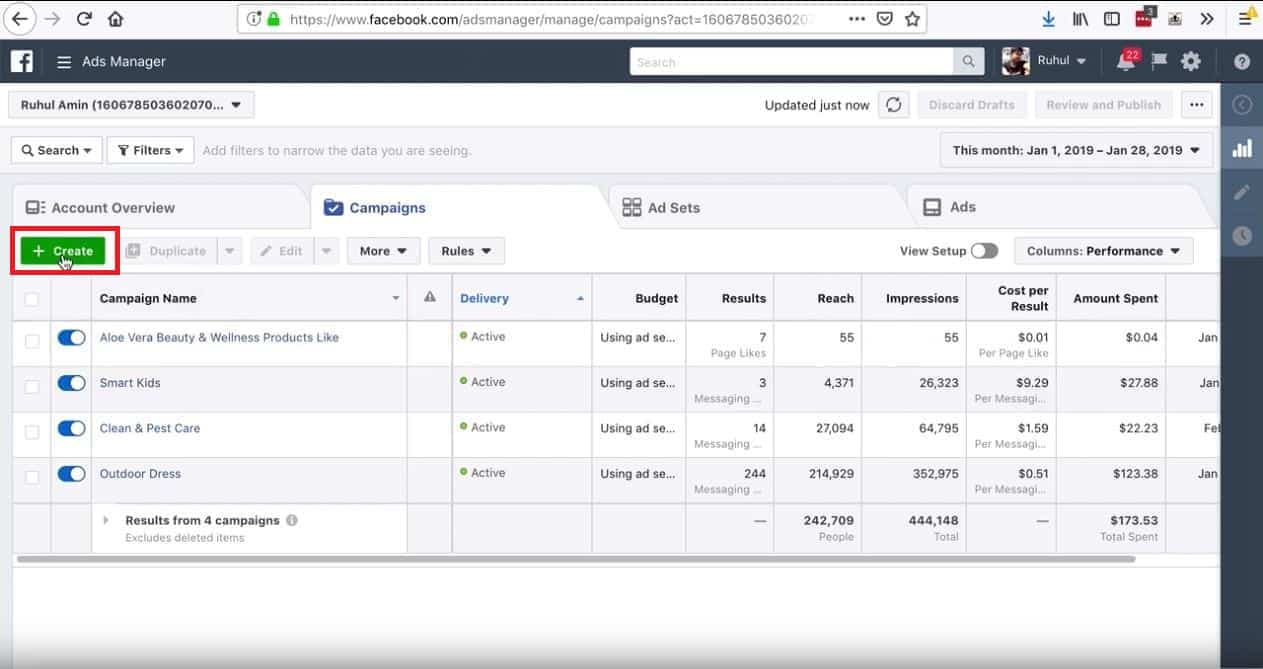 When the ad manager page appears, click "+ create" button.


Step-4: Campaign objective helps you to set a goal

Then you have to set your campaign objective. You have to set traffic as objective. That's because you are creating campaign for youtube videos.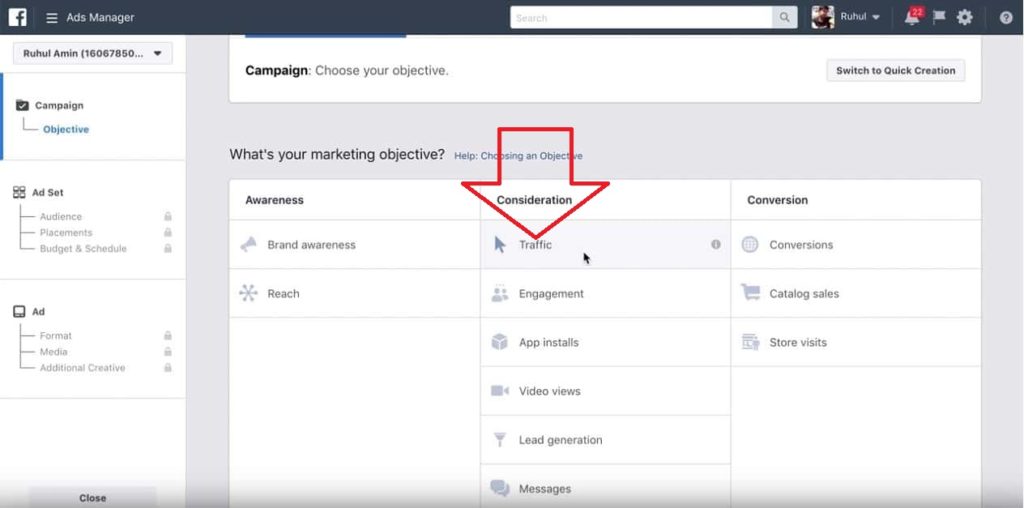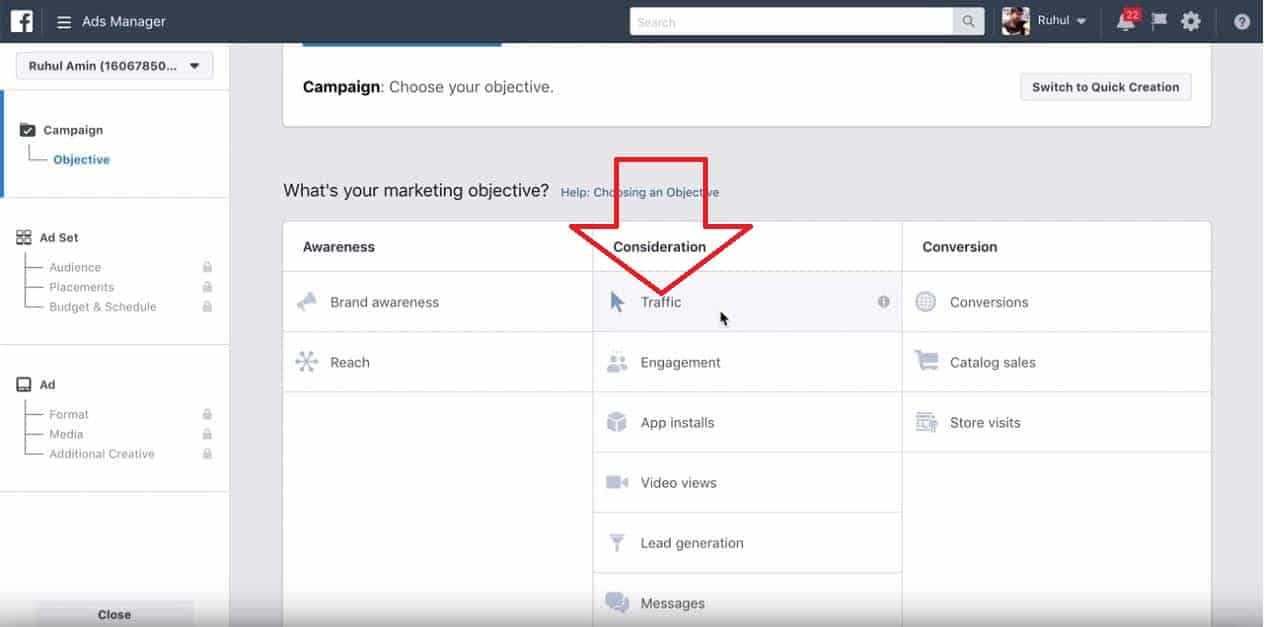 Step-5: Campaign will hit audience first

Followed by, you have to put a suitable campaign name for your video and click "Continue"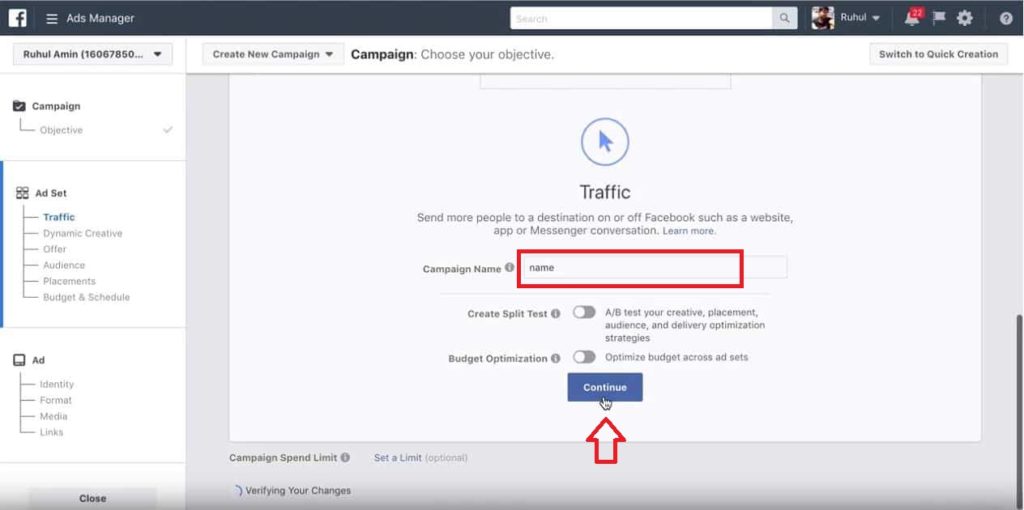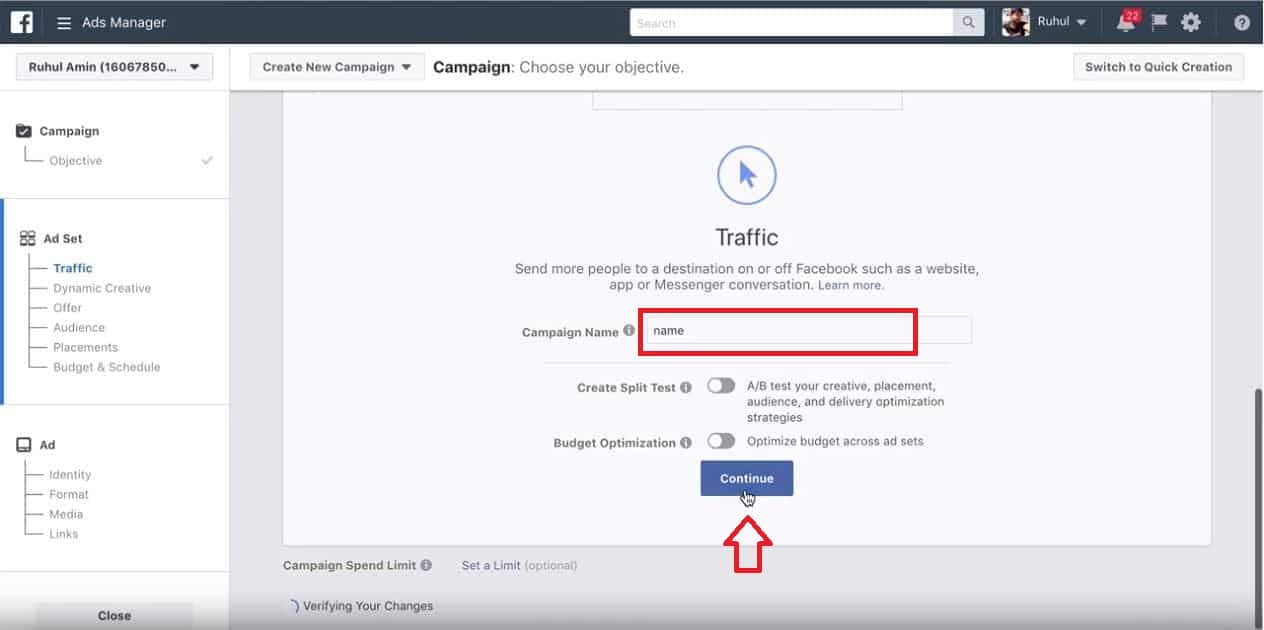 Step-6: Ad set is the fuel to run successful campaign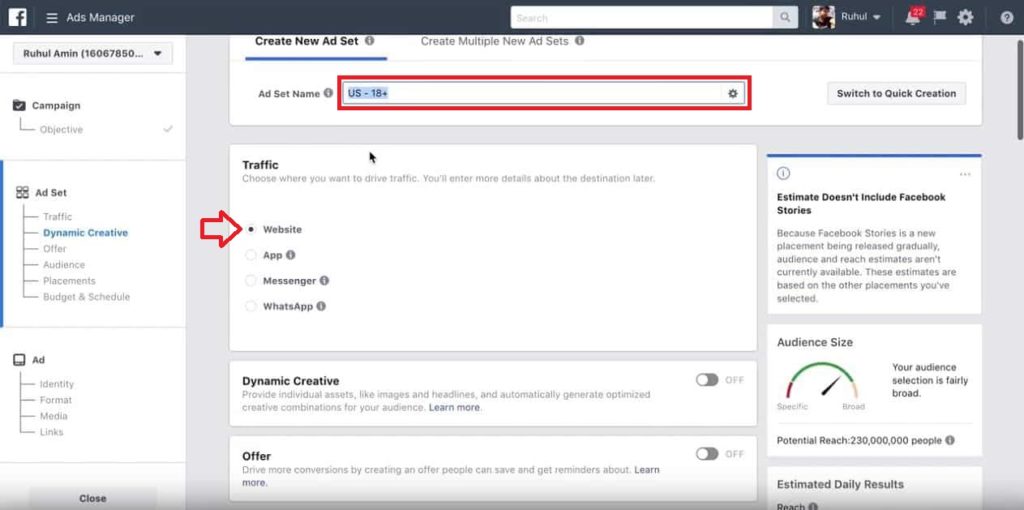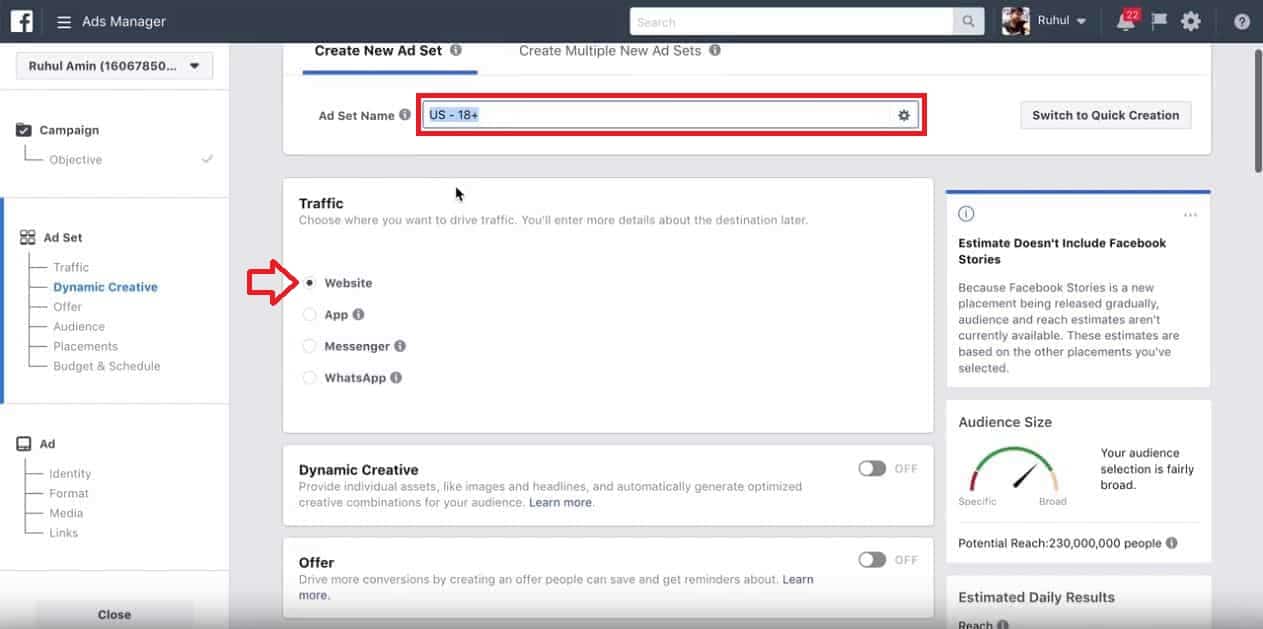 Choose an ad set name. The traffic will be "website"




Step-7: Audience is the heart of ad campaign
In the audience section from the left, you have to select and set "location", where you want your ad to be shown.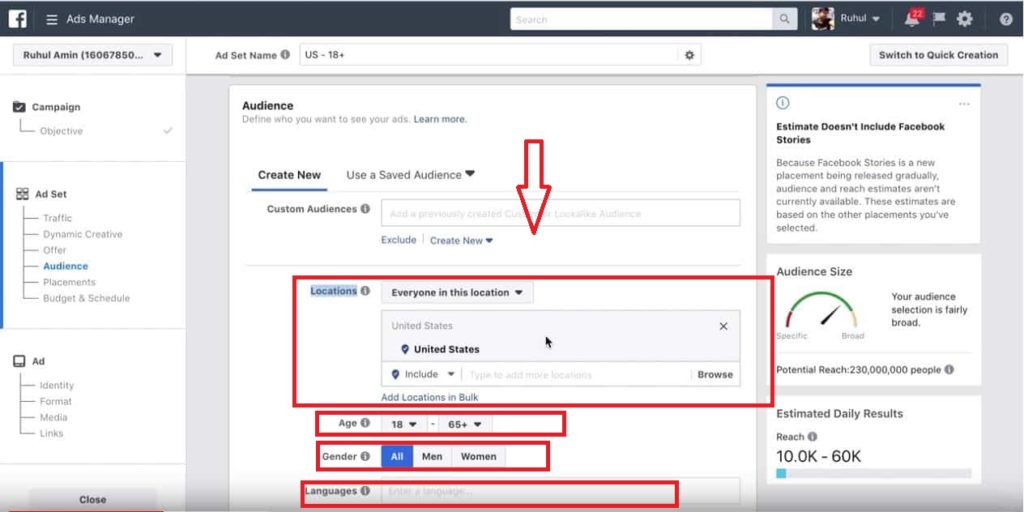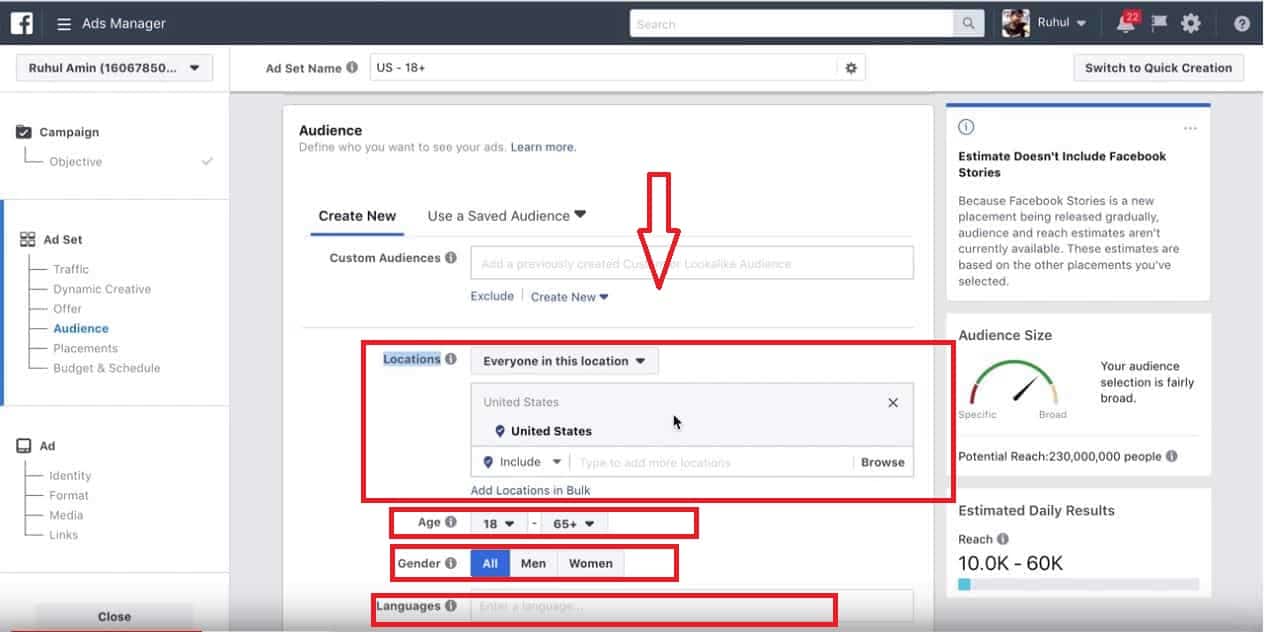 Afterwards, you have to choose age, gender, language one by one. Then it's the important part.
You have to set your detailed targeting. For instance, if your YouTube video is related to music, then you have to write music and there will pop up a drop down list of suggested targeting. You have to choice from there.



Step-8: Placement can make you campaign smooth

There are two types of placement for the Facebook ad campaign. They are "Automatic Placement (recommended)" and "edit placements"



Automatic placement will create space for your youtube video ad automatically. But you can edit the placement. Edit placement will allow you to choose different platforms from the shown list.
Step 8.2
There will be an option for you called "Audience Network". If you select this option, your ad will be shown on different apps. We strongly recommend not setting this option for your youtube video.


Step 8.3
Followed by, you can specify your preferred device option. You can also restrict the network by clicking"only when connected to Wi-Fi"


Step 8.4
Step-9: Budget and schedule will save your penny

Next step is budget and schedule. In this part, the first thing you will see is "Optimization for ad delivery". Make sure this is set with "Link Clicks". Then you can control your budget but its optional.

Step 9.1
Next portion is budget and Schedule. It consists of two options they are "Daily Budget" and "Lifetime Budget". Lifetime budget has some great features. You can select a start and end date for your facebook campaign ad. You can set time or days you want to spend for your facebook campaign ads.

Step 9.2.1 Step 9.2
Then you have to click" Continue"

Step-10: Identity is to recognize your page

It will take you to create an ad option. You have to put an ad name first. Then you have to move with "identity". For identity, you have to assign a facebook page to represent your youtube video ad. Only admins or authorized id is allowed to do so.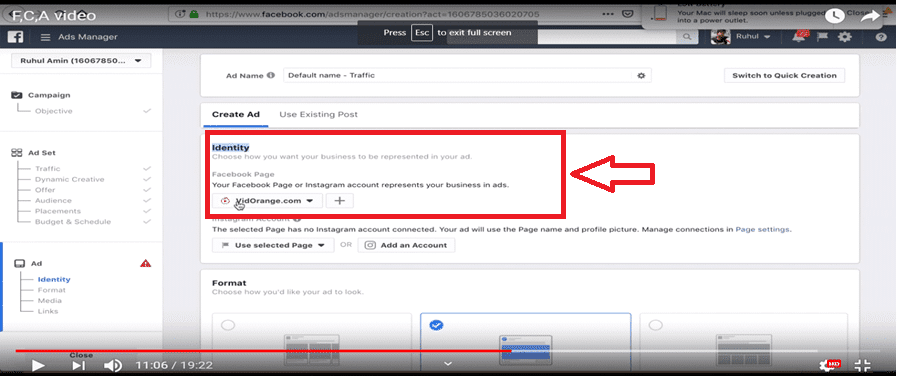 Then you have to select your ad campaign format. It has 3 options carousel, video/image slide, and collection. If you want to run campaign for your youtube video then click "image/video".it will direct you to media part from where you can add image or video.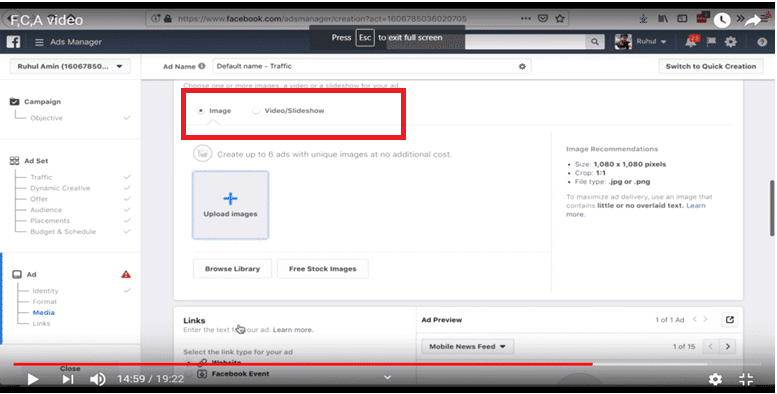 Then it will take you to link part. In this part you have to write a suitable campaign motto in "text". You have to put your youtube video link in "website url". Give your ad campaign "headline". "Call to action" feature is to set an option for viewers to respond.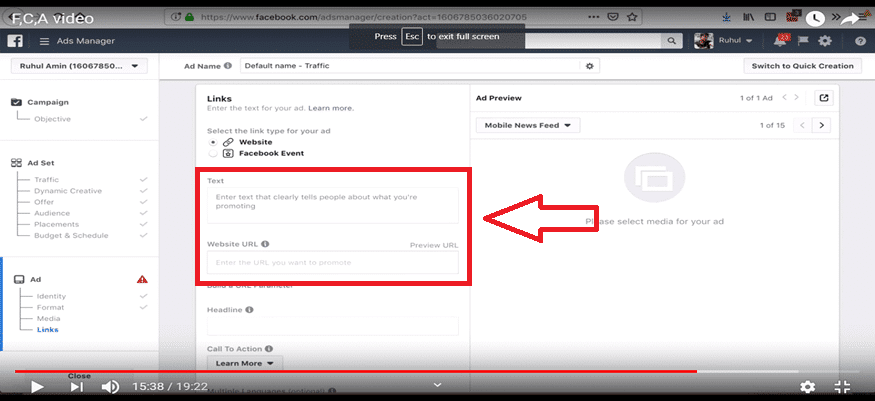 There is another option called"use existing post". From this feature you only have to select the post you want to put as your campaign ad video.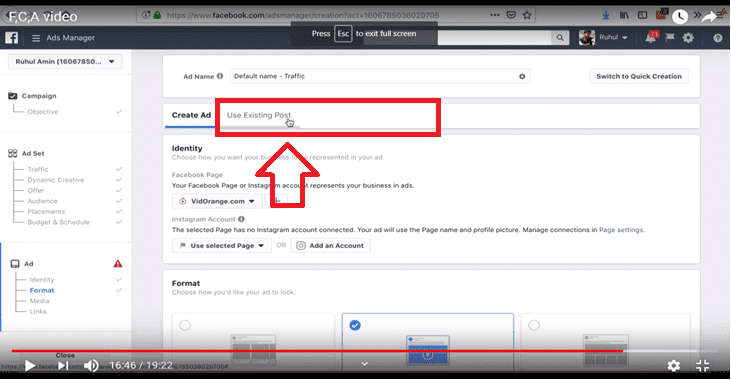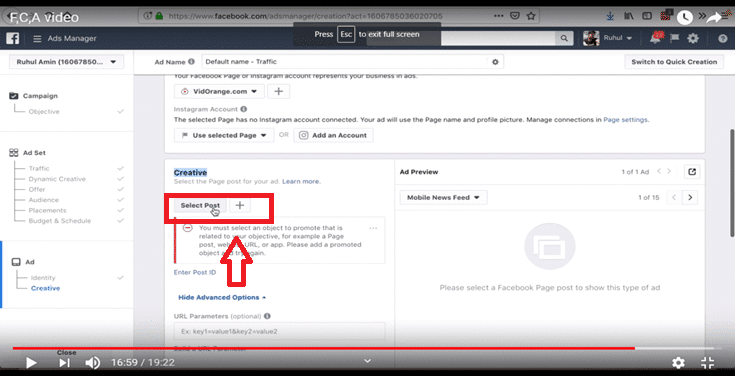 Then you can search your video by its id. For that, click on the drop down icon in your post and select "embed". And save it to a doc pad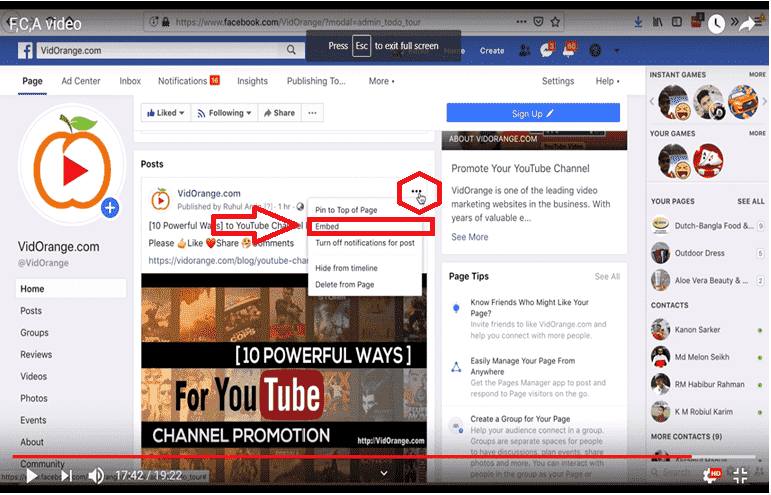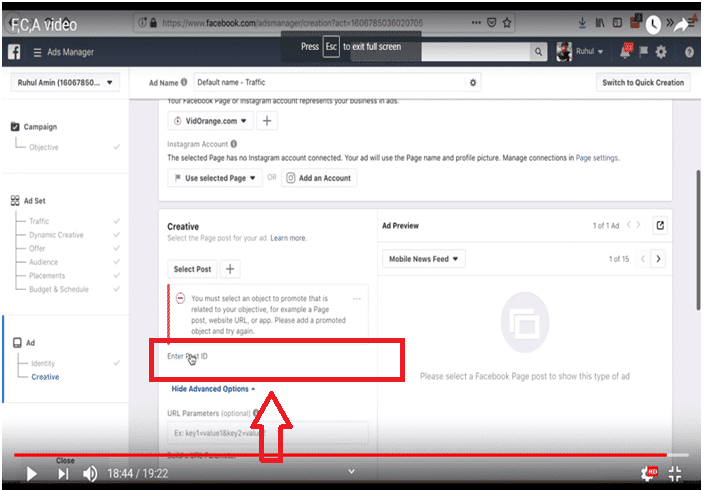 Then click "Continue" and your Facebook ad campaign is ready. This is the way you can create your Facebook ad campaign.

Why do you need to promote youtube ad campaign video in instagram: instagram is the second highest user friendly social platform?
It excites users with its dynamic and interactive features. Instagram allows facebook to run their ad campaign.
So if you are creating your ad campaign in facebook, you can run it to instagram together.
Throughout this article, I will tell you how to sync your facebook ad campaign with your instagram account.
Question may arise in your mind. Why would I sync my facebook ad campaign with instagram?
Let me tell you, there are lots of contrasts to do so. Few of them are as followed:-
⦁ Instagram is the second highest user friendly social platform.
⦁ It is easy to reach targets in instagram
⦁ Instagram has no extra cost to publish your facebook ad there

Let me show you the process to sync your facebook ad campaign with your instagram account:-
Guide to create an Instagram Ad in Facebook Ad Manager
You can create your Instagram Ad using the Facebook ad manager. To do so, you have to sync your Instagram account with facebook ad manager. Once you finish doing this, you have to do the following steps:-

Step-1: go to "business setting"

Figure

Click "instagram Account". Then click on"+ add" sign.
Figure
This will end up synchronization of your instagram account. Now you create ads.
Step-2: hit the "create" button. There will be 2 options called "Guided Creation" and "Quick creation". Guided creation is for newbie and quick creation is for advanced. It is better to start with guided creation.
Step2

Step-3: now you have to select your campaign objective from 8 existing objectives.

Step-4: now you have to write down your campaign name and set your cost for the campaign


Step-5: ad set is the next step. You can optimize your campaign here by setting audience, traffic, placement, budget and schedule.

Step-6: This is the last step. You just have to decide how your ad is going to appear. You want image slide, only image, or video. Then have to select your desired video or image. Then you have to link your website with your campaign and your campaign is ready.